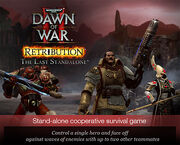 The Last Standalone is a stand-alone version of the Dawn of War II: Retribution version of The Last Stand, a three-player arcade-style multiplayer mode first introduced in Dawn of War II.
The Last Standalone was released on April 20, 2011 as a separate Steam purchase for $9.99 (£6.49, €6.99). Owners of The Last Standalone receive a discount on the full version of Dawn of War II: Retribution.
Play The Last Stand (Retribution version)
Play together with Retribution players
Discount on buying Retribution
Ad blocker interference detected!
Wikia is a free-to-use site that makes money from advertising. We have a modified experience for viewers using ad blockers

Wikia is not accessible if you've made further modifications. Remove the custom ad blocker rule(s) and the page will load as expected.