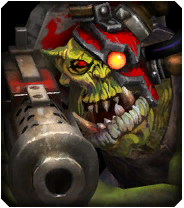 The Mekboy is the Ork hero in The Last Stand. This hero is often used as a mobile (teleporting) damage dealer with buff abilities.
Base stats
Edit
Health: 100 (+2.0 regeneration)
Energy: 50 (+1.0 regeneration)
Armor: 22 (-9% damage mitigation)
Speed: 5.0
Accessories
Edit
Commander items
Edit
1.The Mekboy is most often used as a teleporting ranged damage dealer, a role easy to start with as the required equipment is available right away at level 1. He can also scatter booby traps, buff his allies – the Mekboy's energy renewal ability being noteworthy – and use a "nuke" attack, Roks.
2. One tactic is to use him as a suicide bomber and run him into the enemy. When he dies, he blows up, instantly killing a space marine commander and the apothecaries. 
Ad blocker interference detected!
Wikia is a free-to-use site that makes money from advertising. We have a modified experience for viewers using ad blockers

Wikia is not accessible if you've made further modifications. Remove the custom ad blocker rule(s) and the page will load as expected.