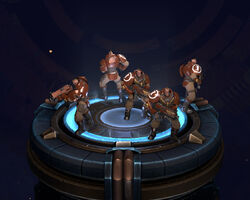 The Scout Squad is a basic infantry unit for Space Marines in Dawn of War III.
General Notes
Edit
Permanently infiltrated unless fighting, grabbing a point or outright Detected, the Scout Squad has a massive sight range and when trained immediately starts out in Hold Fire mode. Which is a good thing, since they are second only to the Servitor in being weak at combat. Only use them to fight if you're absolutely desperate, but feel free to use them as their name suggests: for scouting. There are very few detector units in the game (usually only builders which are most of the time back in their main base), and these are particularly good for finding targets for a Whirlwind missile barrage. They can also toss a blind grenade to temporarily stun a target; powerful enemies and elites are good grenade targets.
With the proper doctrine, their initial shot from stealth does a lot more damage, making them fairly good at hit and run attacks.
There are separate loadouts that represent different units.[1]
Shotguns, landmines, infiltration abilities
Sniper rifles
References
Edit